Here are the completed projects for this week!
First, I made Will a tie onesie to wear for valentines day.
It turned out really cute. I have two more onesies that I'll probably add ties to as well. I used a straight stitch around the edges (using heat and bond underneath). Next time, I think I'll try a zig zag stitch and see how I like that.
I also made Nora and pillowcase dress. Apparently my measurements were a little off and it ended up too short. So I decided to tackle adding a ruffle to the bottom. After searching the internet, I found a good
tutorial
. However, when I went to stretch it out to fit the bottom of my dress, I didn't hold on to the strings and lost my ruffle! So I decided to make up my own way of doing it and made a pleated ruffle instead. It turned out really cute. And while my stitching is not perfect, I'm really proud of this dress.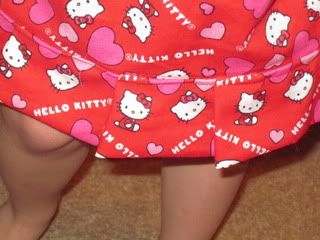 Close-up of pleated ruffle