So I guess I'm feeling a little ambitious this week and have several projects in the works.
First, I'm making a fleece soaker (diaper cover) using
this pattern and tutorial
.
Then, I'm making a skirt for Nora using
this tutorial
(looks super easy!):
I'm making William a pair of pants from
this pattern
and a matching onesie (probably another tie one but I haven't decided for sure yet):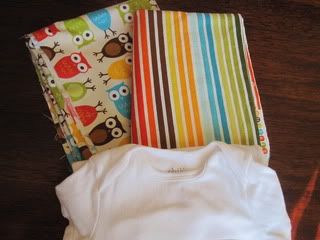 and finally, I'm making a camera case for our little video camera (which seems to be misplaced all of a sudden) using
this tutorial
:
I'd also like to make Nora another pillowcase dress out of the owl fabric, but I'm afraid I'm taking on too much as is because I also have more rag letters to do! So some of this might spill over into next week.